About Us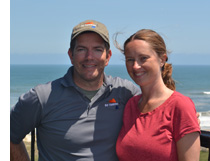 Line and Terri Dempsey started NC TOURING out of a love for the outdoors, motorcycles and exploring the beautiful state of North Carolina. Line started two-wheel touring the state in 1986 on a bicycle. His familiarity with little known back roads and great camping areas translated wonderfully to the sport of motorcycle touring. Line and Terri's motivation with NC TOURING was primarily focused on sharing their knowledge of the area while introducing people to the activity of motorcycle camping
What makes NC TOURING so unique is that you don't have to have any specialized equipment to try a new adventure. The majority of their tours are geared toward motorcyclists that do not have the requisite equipment to take off on a camping weekend. The company will provide, transport and set-up your accommodations (tent, sleeping bag, sleeping pad, and pillow), and you get to keep your pillow at the end of the tour!
But the service doesn't stop with just a motorcycle ride and a camping experience. NC TOURING makes it a point to find some of the most picturesque roads in the state with side trips that include intimate experiences with some of the gems of North Carolina. Depending on the tour, it could be hidden waterfalls off the beaten path to well known historic sites that helped form our state. Come see North Carolina in a new and exciting adventure!

Line Dempsey linked in

TOUR LEADER : Line Dempsey

Line Dempsey has been guiding motorcycle tours for many years. Having been born and reared in NC, Line got his start in leading tours in the 1980's with unsupported bicycle tours of the state of NC, SC and Virginia. Line worked in the tourism industry for 10 years prior to leaving for graduate school. Line began leading motorcycle trips in NC, VA, SC, as well as a trip to the lower east corner of the US ( Key West ).

For the last 11 years, Line's work has allowed him to travel throughout the state of NC at least once a week and he's seen most of the overlooked side roads of our beautiful state. Line has explored NC via bicycle, motorcycle, rock climbing, hiking and by sailboat.

TOUR LEADER : Terri Dempsey

Terri Dempsey is an avid photographer and NC waterfall guide. Her technical knowledge of waterfalls brings a different element to many of the trips that NC TOURING offers. Her experience in guiding people to NC waterfall sites spans over 13 years. With your willingness to hike a little, Terri can lead you to some of the most beautiful waterfalls in NC that many tourists don't get the opportunity to see. She is also our staff photographer to help document and make keepsakes of your tour.


TOUR LEADER: Shannon Stewart

Shannon Stewart has spent multiple years exploring the state of North Carolina. His camping adventures have included motorcycles, bicycles, kayaks and canoes. Line and Shannon have completed multiple motorcycle tours through North Carolina, South Carolina, Georgia, Florida, Virginia and West Virginia.

You Provide What ?!?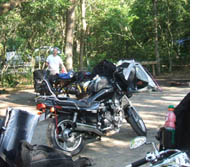 What makes us unique is introducing people to the world of camping and motorcycling with little needed by you. For the majority of our tours, we will provide, transport, and setup your camping accommodations! That's right, all you have to do is ride and then enjoy spending the night in the great outdoors.
Lunch and breakfast stops will be along the routes, and we can point you in the right direction for wonderful dining experiences. For those that truly want to rough it, you can join your Tour Leader grilling out at the campground. We always have a campfire and marshmallows!
Before you invest in multiple bags to carry gear, and the gear that goes with it, you can try it out and see if motorcycle camping if for you. We also consider ourselves "gear heads" so we can give you the latest information on what is available to motorcycle campers and where to purchase your own equipment.
Finally, when you finish your tour, each every rider will get to keep their own camp pillow. Come see how much fun motorcycling and camping can be!
For more information, please don't hesitate to shoot us an email at nctouring@gmail.com. We'll be happy to talk to you all about it!