Fall Foliage Tour
$275.00 per motorcycle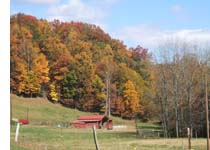 Introduction to motorcycle camping! This is what our company is known for, as this is one of our highlighted tours. This 3 day, 2 night tour will take riders from the Triangle (Raleigh, Durham, Chapel Hill) to the foothills of North Carolina. This tour includes your tent, sleeping bag and sleeping pad. Additionally, you will get to keep your camp pillow after the tour. Itís yours to keep. Fall Foliage I will concentrate on higher elevations as they start to change colors earlier. Colors will dictate more of the travel for the Fall Foliage II tour as well. On this tour, we will provide a bag for you to pack and carry it up for you!
Thursday Evening. The night before the tour leaves, meet for a briefing on the trip and drop off your personal bag. Bags available for pick-up Sunday or Monday evening.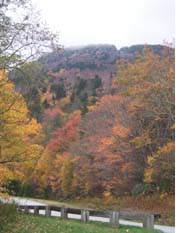 Day 1: Leave at 9:00am Friday morning from Guglhupf Bakery in Durham. Interstate travel to Winston Salem. Back roads and photo opportunities as we travel to one or two waterfalls and lunch before reaching our destination: Old Fort, NC. Once there, enjoy refreshments that afternoon as your accommodations are set up at the campground. Recommendations will be made for dinner if you are not eating at the campground. Estimated time of arrival: 4:00pm.
Day 2: Bikes roll at 8:00am with a quick stop at a wonderful breakfast spot. Mountain travel today along the Blue Ridge Parkway with scheduled stops and lunch. Options will be available for additional riding and sightseeing. Recommendations will be made again for dinner if you are not eating at the campground.
Day 3: Bikes roll at 8:30am with a stop for breakfast in Linville Falls. Options that day will include additional waterfalls or visiting Mount Mitchell State Park (highest peak east of the Mississippi) and lunch in Little Switzerland. If riding with Tour Leader we will take a portion of the Blue Ridge Parkway and plan to be back in Durham by 5:00pm.
Riders will be responsible for their food on this tour, with the exception of post-ride refreshments on Friday and Saturday. Of course, around the fire, we will provide the fixin's for making s'mores!
Cabin Option - For a small additional fee, a private cabin can be reserved for this tour
Tour Includes:
Transport, set-up and use of a Mountain Hardware Tent
Transport, set-up and use of a Sleeping Bag and Sleeping Pad
Costs associated with staying at the campground.
Transport and use of a camp pillow (yours to keep after the tour)
Contact us directly for more information about this tour! nctouring@gmail.com or RESERVE now
*Note: In previous years Fall Foliage Tours SOLD OUT very early.