Five Day - Legendary Lighthouse Tour

This 5 day, 4 night tour will take riders from the Triangle (Raleigh, Durham, Chapel Hill) along an outerbanks tour of North Carolina. This tour includes your tent, sleeping bag, and sleeping pad. Additionally, you will get to keep your camp pillow at the end of the tour. Itís yours to keep! On this tour, we will provide a bag for you to pack and carry it up for you!
Thursday Evening. The night before the tour leaves, meet for a briefing on the trip and drop off your personal bag. Bags available for pick-up Sunday or Monday evening.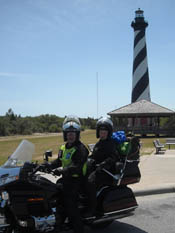 Day 1: Leave at 9:00am Friday morning from Guglhupf Bakery in Durham. We cruised 262 miles finishing up on Bells Island, NC. Along the way we stopped by the Roanoke River Lighthouse (replica) in Plymouth, as well as the original, screwpile lighthouse that is located in Edenton.
Day 2: Bikes roll at 8:00am with a quick stop at a wonderful breakfast spot. Four ocean lighthouses were seen this day, (Currituck, Bodie, Cape Hatteras and Ocracoke Island. One nice ferry ride along the route.
Day 3: Start the day off with a 2.5 hour ferry ride, and the another private boat tour to Cape Lookout Lighthouse. Wonderful fresh seafood for dinner as we camp on Emerald Isle.
Day 4 :A short cruise down to Wilmington and the last two ocean lighthouses (Oak Island and Bald Head Island). Fantastic evening on the riverfront for dinner!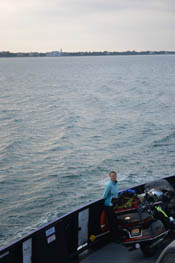 Day 5 : One more ferry ride as we cross the Cape Fear river and check out Price Creek lighthouse, and then a short ride down the rest of the NC Coast before heading back home.
Riders will be responsible for their food on this tour, with the exception of post-ride refreshments.
Tour Includes:
Transport, set-up and use of a Mountain Hardware Tent (or Lodging provided)
Transport, set-up and use of a Sleeping Bag and Sleeping Pad (or Lodging provided)
Costs associated with staying at the campground or lodging.
Transport and use of a camp pillow (yours to keep after the tour)
Contact us directly for more information about this tour! nctouring@gmail.com